LCNTDR anniversary event 2018 Highlights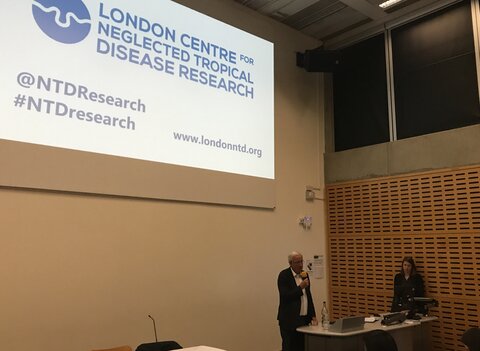 On the 31st Jan LCNTDR held its anniversary event to commemorate the sixth anniversary of the London Declaration on Neglected Tropical Diseases (NTDs).The evening focused on quality research for effective policies featuring a some research highlights for 2017 draw from across the LCNTDR membership.
The keynote presentation was given by Professor Simon Brooker, formerly of both Imperial College London and LSHTM. Professor Brooker is currently Senior Program Manager for NTDs at the Bill & Melinda Gates Foundation.
With a presentation entitled ' The roads from NTD research through policy to large-scale implementation ' , Professor Brooker used the example of triple drug therapy for lymphatic filariasis to discuss the process of turning research into practice. The triple drug therapy saw a particularly fast timeline from research to accepted policy, with guidelines for non-onchocerciasis endemic areas published in November 2017.
Professor Brooker outlined the factors that made this timeline a success – including a close relationship with grantees, use of modelling and rapid funding – before urging the researchers in the room to think about how the data they produce can have relevance to large-scale implementation, and how they might make that leap.
The rest of the meeting was devoted to research highlights from LCNTDR members. Reflecting the scope and range of LCNTDR's research community the presentations were split into two sections:
Section 1 - New and innovative tools and strategies for control
A. LSHTM Open Data Kit: A zero-cost electronic data capture system for global health researchers - Dr Chrissy Roberts, LSHTM
The Open Data Kit uses standard mobile technology such as tablets and smart phones which use open source software programmes to enable researchers to capture, transmit field research data in real time. Without the need to rely on hardcopy data collection this electronic approach has the potential to improve ease and quality of the data collection. He highlighted the fact that the kit had been successfully used to collect data in remote locations including islands in the South Pacific. Download the presentation.
B. Social determinants of preventive chemotherapy uptake during mass drug administration interventions for schistosomiasis in sub-Saharan Africa: A systematic review - Dr Carlos Torres Vitolas, Imperial College London (Schistosomiasis Control Initiative)
Carlos Torres Vitolas's empirical study focused on survey findings from community-based and school-based deworming projects. His findings suggested strategies to tackle food scarcity and poverty are necessary, in addition to wider community involvement and a careful understanding of the historical and cultural context of these communities.
C. The impact of five years of alternative approaches to treat urogenital schistosomiasis: Findings from Mozambique and Niger - Dr Anna Phillips, Imperial College London
Anna Phillips summarized findings from a large-scale trial in Mozambique and Niger, which aimed to assess alternative approaches to treat urogenital schistosomiasis. The results from studies such as these can be used to inform future strategies to control and eliminate NTDs. Download the presentation.
D. Large-scale integrated mapping of case management NTDs in Liberia - Dr Joe Timothy, LSHTM
Joe Timothy discussed the work the LASER group are doing to map case management NTDS such as Buruli ulcer, LF and leprosy. Mapping and thereby treatment and control of these diseases is often difficult due to them being relatively rare and affecting remote communities. Dr Timothy reported on the study currently underway in Liberia which uses a two-stage cluster-randomized mapping protocol. Download the presentation.
E. Global genome-diversity and hybridisation in the Leishmania donovani complex - Dr Susanne U. Franssen, Wellcome Trust Sanger Institute
Susanne Franssen discussed her research into the global genome-diversity and hybridization in the Leishmania donovani complex. The research is focusing on issues such as heterozygosity, the phylogeny of uniparentally inherited kDNA and the inheritance patterns along the genome. Download the presentation.
F. Which policies are needed for zoonotic schistosomiasis in sub-Saharan Africa? - Dr Elsa Leger, Royal Veterinary College
Elsa Leger discussed the burden of zoonotic schistosomiasis in sub-Saharan Africa, highlighting that the level of livestock infection is frequently overlooked and that praziquantel is often misappropriated to treat animals. She concluded that a One Health, multi-host framework for policy will be necessary to tackle this disease. Download the presentation.
Session 2 : Achieving and maintaining elimination
G. Novel tools and strategies for schistosomiasis elimination in Zanzibar - Dr Bonnie Webster, Natural History Museum and Dr Steffi Knopp, Natural History Museum and Swiss Tropical and Public Health Institute
Steffi Knopp highlighted the progress of a joint schistosomiasis elimination programme in Zanzibar; to date the programme had decreased prevalence reducing the majority of infections to low intensity. Given these low intensities there is a need for more sensitive diagnostic tools. Bonnie Webster introduced a recombinase DNA-polymerase amplification-based diagnostic tool. Webster highlighted that molecular diagnostics have great potential, with pilot studies highlighting that this is an accurate measure and a simple, reliable and portable tool. Research findings for these studies will be published shortly. Read more about the project.
H. Modelling the climate and environmental suitability of lymphatic filariasis (LF) in Nigeria - Obiora Eneanya, Imperial College London
Obiora Eneanya spoke about the use of climatic and environmental factors to accurately map where LF infection could occur in Nigeria. He plans to use these maps to evaluate the impact of bed-net usage on LF prevalence. Download the presentation.
I. Mathematical modelling of vector control as a complementary intervention for onchocerciasis elimination - Isobel Routledge, Imperial College London
In looking at how modelling can be helpful in providing insights into a range of different ecological contexts or control scenarios Isobel Routledge discussed the results of her work to investigate the impact of vector control on blackfly population dynamics and biting rates. Download the presentation.
J. Visceral leishmaniasis transmission in India: xenomonitoring in the post-elimination setting - Shannon McIntrye, LSHTM
Shannon McIntrye presented her work on visceral leishmaniasis transmission and the value of using xenomonitoring as a cost-effective, non-invasive tool to indicate transmission rates. Download the presentation.
K. DeWorm3: Demonstrating the feasibility of STH elimination - Dr Katherine Halliday, LSHTM
Deworm3 study is a large multi-country, multi-party project which aims to demonstrate the feasibility of interrupting STH transmission across three study sites – Benin, Malawi and India. Kate Halliday presented the initial baseline census data from each site and discussed the research approach of the study which will compare 3 years of community-wide intervention with the standard-of-care and 2 years of surveillance. Read more about Deworm3.
L. Loa loa – More than meets the eye? - Charlie Whittaker, Imperial College London
Loa loa is a disease infecting an estimated 10 million individuals across Africa. Charlie Whittaker reported that recent research has suggested loa loa may be linked to excess mortality, potentially presenting a significant public health threat. Charlie Whittakers presnted a model could help to estimate the burden and thereby assess if elimination is feasible. Download the presentation.
Additional notes were adapted from the ever-excellent Infection Disease Hub