Beyond 2020: presentation highlights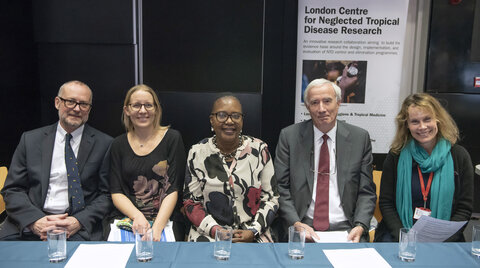 On the 31st January, the London Centre for Neglected Tropical Disease Research (LCNTDR) held its annual meeting to commemorate the London Declaration on Neglected Tropical Diseases (NTDs). The 2012 declaration called on NTD partners to work together to control and eliminate NTDs by 2020. The LCNTDR event 'Beyond 2020: research innovations for a new agenda' sought to take stock of NTD research efforts to-date and shine a light on the new innovations and approaches which will be shaping future public health approaches.
Given the central role played by WHO in shaping current and future NTD priorities, the symposium's keynote address was provided by Dr Mwele Malecela, WHO's newly appointed Director of Neglected Tropical Disease Control.
An alumna of the London School of Hygiene & Tropical Medicine, Dr Malecela, outlined how the London Declaration had brought together disparate stakeholders to work in a coordinated way to control and eliminate these diseases.
With one billion people receiving treatment for at least one NTD for the past 3 years, Dr Malecela noted that the coordinated approach espoused by the declaration had achieved significant successes but challenges remain in meeting NTD elimination targets.
'Our successes over the past 7 years prove that defeating NTDs is within reach - but we need to increase momentum while sustaining the gains.'
In light of the impacts of issues such as climate change, urbanization, new agricultural methods, and food insecurity on disease transmission, Dr Malecela emphasized the need for the NTD community to continue to identify and adopt new innovative approaches.
She called on the global health community to focus not just on the 10 NTDs currently targeted by the London Declaration but to expand its gaze to include other NTDs not currently prioritized.
To meet these future challenges, Dr Malecela emphasized the need to the need to harness the power of convergent technology to; strengthen our ability to map diseases, plan interventions and distribute donated medicines; revolutionize the way we report, share and store data; and improve our monitoring and evaluation of programmes.
A key focus of this approach is working in partnership with the wider health sector to embed and strengthen NTD control as part of a stronger more resilient wider health system.
Dr Malecela was joined by Dr Gail Davey, Chair of the Neglected Tropical Disease NGO Network, and (by video) by Dr Maria Neira, Director, WHO Department of Public Health, Environmental and Social Determinants of Health to launch the WHO's new toolkit: WASH and Health working together: A How-To Guide for NTD Programmes
Research Presentations:
Advancing diagnostics: Point-Of-Need molecular diagnostics for urogenital schistosomiasis
Dr Bonnie Webster, Natural History Museum
Point-of-Need testing(PON) is diagnostic testing at the time and place that a patient is being assessed or cared for. A team at the Natural History Museum have developed a rapid and simple assay that can detect S. haematobium DNA in human urine. The assay requires only basic portable equipment and so has the potential to be able to diagnose urogenital schistosomiasis in the presence of the patient and so may enable test and treat scenarios.
Find out more about this research project
Using sensorial anthropology to understand syndromic diagnosis in sleeping sickness
Dr Jennifer Palmer, LSHTM
Jennifer Palmer's anthropological research assesses the impact that different cultural and social settings have on the reporting and diagnosis of sleeping sickness. Findings indicated diagnosis is most effective when based on both biomedical and local knowledge. NTD control programmes should look to incorporate this knowledge and engage more stakeholders in communities of practice.
Find out more about this research project
Finger prints, tablets, and WaSH – can transmission of STH and Schistosomiasis be interrupted in Ethiopia?
Ms Alison Ower, Imperial College London
The newly launched Geshiaro research project is looking at the feasibility of breaking the transmission of schistosomiasis and soil transmitted helminths (STH) in communities in Ethiopia. The project is assessing the combined impact of community wide mass drug administration, improved water and sanitation facilities and behaviour change campaigns to decrease prevalence of infection below 2% in 4 years.
Find out more about this research project
DeWorm3: A progress update
Dr Katherine Halliday, LSHTM
Deworm3 study is a large multi-country, multi-party project which aims to demonstrate the feasibility of interrupting STH transmission across three study sites – Benin, Malawi and India. Kate Halliday presented the baseline data collected from around 370,000 participants. She also detailed a theoretical model outlining operational and implementation factors that influence the ability to interrupt transmission of STH at scale.
Find out more about this research project
Impact, equity and cost of school-based and community-wide treatment strategies for soil-transmitted helminths in Kenya: the TUMIKIA study
Dr Rachel Pullan, LSHTM
The TUMIKIA study sought to evaluate the impact and cost-effectiveness of community-based versus school-based deworming on STH transmission in Kenya. Analysis showed that infection prevalence decreased in line with model predictions. The project achieved high levels of coverage across all demographic groups. It estimated that at scale a routine deworming programme would cost $0.33 per person.
Find out more about this research project
Interrogating VL programme implementation in six countries: challenges and outcomes
Dr Lydia Boudarène, LSHTM
Lydia Boudarène presented an innovative use of a established method to evaluate the KalaCORE's Visceral Leishmaniasis programmes in Africa and Asia. The use of the theory of change in a retrospective way provides increased flexibility and a comprehensive overview of the project, in all its detail.
Find out more about this research project
The importance of a One Health perspective for control of schistosomiasis in sub Saharan Africa
Dr Elsa Leger, Royal Veterinary College
Elsa Leger discussed the burden of zoonotic schistosomiasis in sub-Saharan Africa. Analysis of molecular and epidemiological data from endemic communities in Senegal and Niger shows high levels of infection in both human and livestock populations. It also highlighted extensive hybridization between human and animal schistosome species. She concluded that a One Health, multi-host framework for policy will be necessary to tackle this disease.
Find out more about this research project
Building a data platform for Chagas disease modelling
Dr Julia Halder, Imperial College London
Julia Halder outlined work to model the seroprevalence and the force-of-infection of Chagas disease, across all 21 endemic countries. This work is being based on data extracted and harmonised from multiple historical data sets.
Find out more about this research project
The importance of heterogeneity in exposure to vectors of onchocerciasis
Dr Jonathan Hamley, Imperial College London
Increased data on the differences individuals face in their exposure to blackfly bites may help produce more accurate onchocerciasis transmission models. Dr Hamley explained how exposure heterogeneity was an important factor in pre-intervention model calculations. He went on to outline how transmission models have shown MDA to be less effective the greater the heterogeneity in exposure to fly bites.
Find out more about this research project
Breaking transmission for Schistosoma mansoni: Will elimination or resurgence occur after stopping treatment?
Dr Jaspreet Toor, Imperial College London
The WHO targeting the elimination of schistosomiasis, Jaspreet Toor's work highlights that a 1% prevalence threshold 2 years post-treatment (with a sample size of 200 individuals) can be used to detect whether this outcome will occur.
Find out more about this research project
Genomic impact of mass drug administration on human infective Schistosoma mansoni
Mr Duncan Berger, Wellcome Sanger Institute/ Royal Veterinary College
Evidence shows that multiple rounds of mass drug administration can result in reduced drug efficacy.Duncan Berger presented genomic analysis of schistosomiasis which is seeking to understand issues of drug resistance, hybridization, and the global diversity of schistosomes. This work can be used to support the development of new treatment regimes.
Development of CRISPR-Cas9 mediated gene drives affecting host seeking behaviour and induced refractoriness to Leishmania and Trypanosoma cruzi parasites in Sand flies and Triatomine bugs
Dr Matthew Yeo, LSHTM
Matthew Yeo presented his group's work on a new gene editing technique to potentially strengthen insect resistance to infection. The team are also looking at targeting insect smelling genes as a means to change their biting behaviour. The project has the potential to deliver a new strategy to tackle Leishmaniasis and Chagas disease.