Why trust is so vital for data collection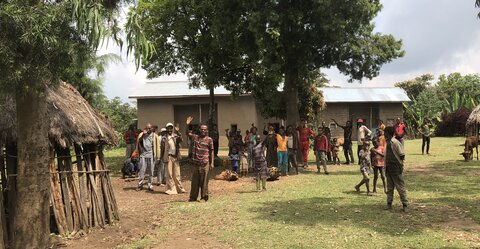 The Geshiyaro research initiative aims to identify the optimal design of programmes that seek to eliminate the public health threat posed by parasitic worms such as soil transmitted helminths (STH) and schistosomiasis infections.
Initially focusing on the 2 million people who live in the communities of the Wolaita zone in south-east Ethiopia, the Geshiyaro project aims to break transmission of worms through the implementation of expanded drug treatment, Water, Sanitation and Hygiene (WaSH) activities and behaviour change communication campaigns.
The Geshiyaro project is an international collaboration between the London Centre for Neglected Tropical Disease Research (LCNTDR), World Vision Ethiopia, the Ethiopian Public Health Institute (EPHI) and Ethiopia's Federal Ministry of Health, with funding from the Children Investment Fund Foundation.
This project is innovative because it is the first large-scale deworming initiative that also will evaluate the impact of different treatment strategies and WaSH, using biometric finger print technology to improve coverage and compliance of treatment.
Biometric finger print technology will enable accurate identification and tracking of the estimated 200,000 individuals who will receive deworming tablets during the first year of the Geshiyaro project. Creating a register of all those living in the Wolaita zone who comply with treatment is crucial for the monitoring of treatment progress over the course of the project.
EPHI leads the Geshiyaro evaluation activities. LCNTDR researchers from Imperial are supporting EPHI in the field. LCNTDR researchers Alison Ower and Julia Dunn explain the opportunities and challenges that using this technology is presenting.
Why the need for finger prints?
Traditionally, large-scale research projects like this, track participants using standard ID cards which are registered and distributed at the beginning of the study. However, these cards can be lost or swapped with other community members putting at risk the accuracy of the data collected. Biometrics markers like finger prints can't be lost or swapped and so potentially offer a better way to track whether study subjects adhere to drug treatment regimes or not.
We're working with the company Simprints, who have developed a portable finger print scanner. We use the biometric data collected to link data through data collection and drug treatment rounds, hopefully meaning we can accurately check who has and hasn't taken treatment.
A key early part of this study is to answer operational questions such as these. The findings from this project can then be used to inform the design of similar research projects.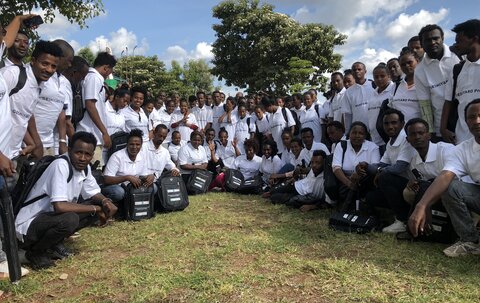 What data do you collect?
From October to November 2018, 120 data collectors went house to house within the study communities asking households if they would like to participate in the study. If they do consent, they are issued with a standard ID card and introduced to the biometric technology. They are then asked if they consent to providing this extra identifier. If an individual does not wish to have their fingerprint taken, or be included in the study as a whole, they are under no obligation to do so.
A data collector aims to collect data for around 70-100 people per day. The average household size is 6 people, so they are hopefully reaching 15 households a day.
For this project we use SurveyCTO, ODK-based data collection software which can be loaded on smartphones. The data collectors collect the demographics of the household (e.g. type of toilet, drinking water source, etc.) and each individual – (e.g.name, age, sex, etc). If they are a child we ask if they are in school and if so which school. We also collect the GPS location of the house. For each individual we take readings of four of their fingers, two on each hand. We don't actually store images of their finger prints, a composite ID is generated from their fingerprints and this data is kept separate from the personal data as an added layer of data security.
Once collected, this data means we can in the future rescan a finger print and quickly and accurately find the individuals details again.
Trust is key
Our pilot year was conducted in the Bolosso Sore district of the Wolaita zone. With 32 different kebeles (villages) in Bolosso Sore, we found that different communities responded differently to the research activities. Some communities are experienced with research studies of this nature, whilst others which were new to this sort of thing, required more explanation. Particular focus was given to the biometric component of the data collection activities, as this is technology that the vast majority of community members had not seen before. The data collectors did an excellent job of conveying the purpose and safety of the biometric to study participants but, over the course of the data collection, we had to deal with some negative reactions and misinformation.
In response to this, we held extra meetings with community leaders to further explain the data collection process and allay fears.
It's evident how important trust is when conducting research of this nature. It is vital to have that mutual trust between researcher and community and also the trust in the technologies we're using.
We've learnt it's important to be in regular contact with both the data collectors and the communities they're working in so we can build and sustain that community trust.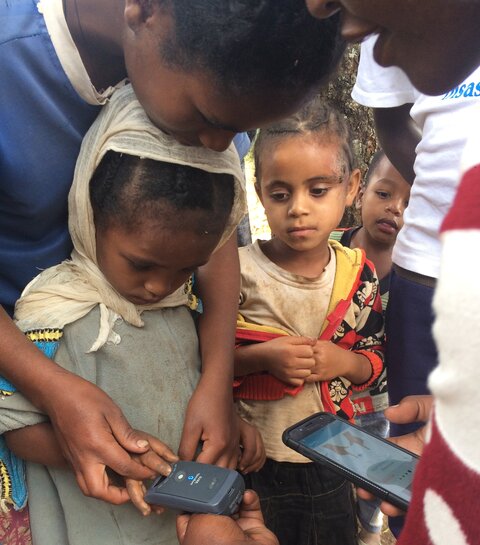 Engaging with the community
One of our local partners, the Ethiopian Public Health Institute, had meetings with the elected officials from each community to explain the project, the data collection and biometrics. The plan was that these leaders would then dissemination this information around the communities. One of the lessons we took away is that a purely top down approach can miss people out, a more inclusive - grass roots - sensitisation programme is also needed.
Biometrics could be of great use to future research projects. We have taken away very important lessons from this - relatively small community - about the successful application of this technology and how this can be scaled up to inform larger country level programmes.
What are the next steps?
Parasitological mapping of the Wolaita Zone took place in January 2019. The first mass drug administration round in the Geshiyaro project followed, taking place in Jan-Feb 2019. The Geshiyaro project has also competed a treatment coverage survey and open defecation free (ODF) validation. Data collection for Year 2 of the Geshiyaro project begins in August 2019 with an expanded census, followed by parasitological data collection in sentinel sites and the second round of MDA.
Further reading