One Health approach to schistosomiasis control in Africa - The CATTLES Project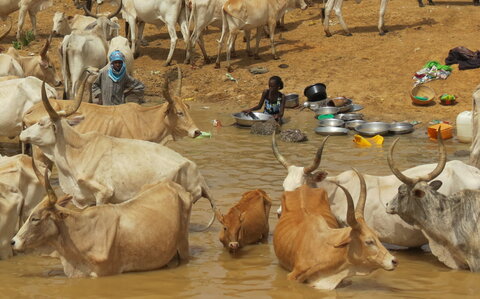 A Royal Veterinary College research project to strengthen approaches to protect poor communities in Africa from schistosomiasis infections which damage both human and animal lives has awarded funding from the internationally renowned Zoonoses & Emerging Livestock Systems (ZELS) programme.
The ZELS programme, a partnership between UK Department for International Development and research councils, seeks to provide policy makers with research evidence about how to protect the health and livelihoods of people in low-income settings from zoonotic and livestock related diseases.
It is estimated that zoonoses – diseases capable of passing from animals to human - are responsible for 2.5 billion cases of human illness and 2.7 million human deaths worldwide each year. As well as threatening human and animal health, zoonotic diseases affect livestock production, causing economic and social harm to communities in both developed and developing countries. Around $220 billion was lost globally between 2000 and 2010 due to zoonotic disease.
The new Control And Targeted Treatment of Livestock Emerging Schistosomiasis (CATTLES) project, led by Prof Joanne Webster, will build the evidence base for the development of sustainable schistosomiasis control programme for livestock in Africa. The project ultimately aims to improve the health and productivity of both humans and animals through the implementation of a One Health approach to schistosomiasis control.
The research builds on some of the key finding produced by the earlier Schistosoma Hybridization Evolution, Ecology and Prevention (SHEEP) project, also led by Prof Joanne Webster. This ZELS funded research elucidated the complex transmission dynamics where host-spots of schistosomiasis transmission and sickness among both children and adults in West Africa are being driven not just by the human of form of the parasite as previously assumed, but rather through hybridized animal and human schistosome species.
These hybrid species were viable in both people and humans, significant increasing the distribution of the disease and ultimately challenging current elimination efforts. This research presented policy makers with the evidence that to be successful schistosomiasis disease elimination programmes could not ignore the animal reservoirs of infection within sub-Saharan Africa. Moreover, currently treatment of schistosomiasis in livestock is often carried out in an ad-hoc way by farmers often using drugs designed for humans.
The new CATTLES project will study the impact of improving community access to livestock schistosomiasis control measures and the efficacy of veterinary drugs currently available. To support vets working in endemic countries the programme aims to develop low cost diagnosis and point of care tools. It will design and evaluate a targeted Test, Treat, Track (T3) control programme for livestock schistosomiasis. With only one treatment available for schistosomiasis to both humans and animals, the project will also assess the potential evolution of drug resistance.
Highlighting the multiple strands of the project Prof Joanne Webster said, 'If we want to change policy it comes down to money, we can see that currently animals are dying but we need to also conduct economic studies that categorically show the impact that schistosomiasis is having on the lives and livelihoods of rural populations'
The project will, through a range of workshops and community outreach activities, evaluate how the target populations adopt and perceive this One Health approach to disease control and elimination.
Further reading