Confirming the elimination of trachoma in Bijagos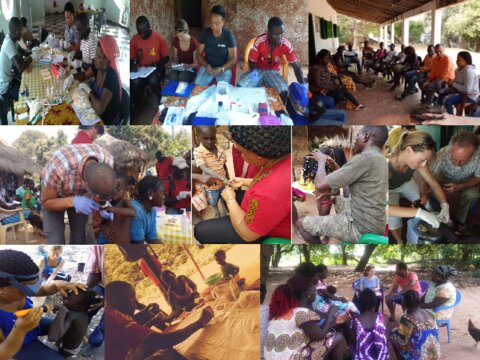 In 2010, when LSHTM's Trachoma Research Group started an epidemological study into the control and elimination of trachoma on the Bijagos Archipelago of Guinea Bissau the disease was a significant public health problem. In 2017, national surveys had shown that trachoma had been eliminated from the Bijagos region. Project lead, Anna Last explains the approach that her multidisciplanary research team took to support this elimination and why the work continues.
The Bijagos Archipelago of Guinea Bissau are a small group of islands situated off the coast of West Africa. When we first started conducting studies on the islands, trachoma was a significant public health problem and there was very little infrastructure in place to facilitate conducting surveys or to provide community-based treatment.
Over the past seven years we have established field infrastructure through these studies, including a skilled field research team, with nurses, field lab technicians and entomologists. We have worked closely with the national programme and have facilitated distribution of antibiotic mass drug treatment for trachoma, where even after a single round of treatment, a significant reduction in disease and infection was demonstrated.
A recent nationwide trachoma treatment impact survey conducted in Guinea Bissau in 2017 shows that trachoma has been eliminated in the Bijagos region of Guinea Bissau.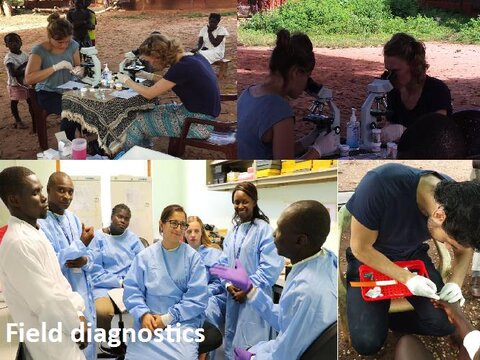 The success of these research studies and programmatic capacity building and support have been led by a team that is well-represented by women. Our field supervisor, Adriana Goncalves, a post-doctorate fellow from LSHTM heads a team including Eunice, our field nurse, Lucilia and Nadir, our field lab techs and Janete and Luisa, our field assistants. Amabelia Rodrigues, an influential epidemiologist in Bissau and Jane Achan, a paediatrician at MRC The Gambia are co-investigators on our current studies. Our team are well-received locally in the matriarchal communities of the Bijagos Archipelago. Following our successful work in trachoma on the islands, we are conducting a network of disease and vector mapping surveys to understand the co-endemicity of other NTDs and malaria in this setting, towards conducting integrated research towards elimination of infectious diseases in this setting.
We currently have an MRC Global Challenges Research Foundation Award to conduct these baseline studies and further build capacity in our field and insectary infrastructure. Based on the baseline malaria and NTD I've recently put a full proposal to the Joint Global Health Trials Scheme (jointly funded by MRC, Wellcome Trust, DFID and NIHR) to conduct a cluster-randomised intervention trial to evaluate the impact of mass drug treatment (using ivermectin and dihydroartemesinin-piperaquine) as a strategy for reduction of malaria transmission by targeting both human parasite reservoirs and vector populations.
Further information
Project page - Studies towards infectious disease elimination on the Bijagos Archipelago of Guinea Bissau
Last, AR et al, 2014 Risk factors for active trachoma and ocular Chlamydia Trachomatis Infection in treatment-naïve Trachoma-hyperendemic communities of the Bijagós Archipelago, Guinea Bissau. PLOS NTDs
Last AR, et al. 2017 The impact of a single round of community mass treatment with azithromycin on disease severity and ocular Chlamydia trachomatis load in treatment-naïve trachoma-endemic island communities in West Africa. Parasites & Vectors Vol:10.624