Professor Javier Guitian
Professor of Veterinary Public Health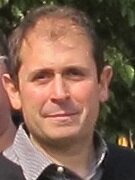 Javier conducts applied epidemiological research on diseases of livestock and poultry that can be transmitted to humans or compromise the sustainable production of safe food. His work integrates field-based observational studies and quantitative methods such as statistical modelling, system dynamics modelling, disease transmission modelling, spatial epidemiology and probabilistic risk assessment. Increasingly, he is trying to incorporate qualitative research methods to allow a more integrated approach to veterinary public health problems. Javier is currently involved in research projects in UK, India, Middle East and West Africa. The main themes of his current research are:
Livestock and poultry health and management of food safety in dairy and meat chains
Control of neglected zoonoses (brucellosis)
Impact of livestock diseases on livelihoods of smallholders and sustainable control strategies
Specific ongoing research projects include studies on the impact of Animal African Trypanosomiasis for smallholders, epidemiology and control of brucellosis in Jordan, Indian Punjab and West Africa, surveillance for transmissible spongiform encephalopathies, Trichinellosis and Cysticercus bovis in the UK and the assessment of the risk of food-borne toxoplasmosis.
Past projects include, among others, studies on the epidemiology and control of avian influenza in endemic settings, management of zoonotic risks in UK open farms, evaluation of the impact of FMD for smallholders in the Andean region and monitoring the health impacts of genetically modified animal feeds in livestock.
This research work involves a team or around 10 mostly London-based research assistants and PhD students and close collaboration with staff from the RVC's farm animal and infection and immunity groups and with UK-based external collaborators from the London School of Hygiene and Tropical Medicine (Punam Mangtani), Imperial College London (Azra Ghani), Animal and Plant Health Agency (Mark Arnold, Trevor Drew, Adrian Whatmore, John McGiven) and the Pirbright Institute (Simon Gubbins, David Schley),.