Dr Guillaume Fournié
Research Fellow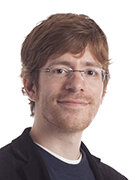 Guillaume is a veterinarian and epidemiologist. He is currently involved in projects focusing on avian influenza, peste des petits ruminants, joint economic and epidemiological modelling, and the role of live animal trade networks in the spread of animal and zoonotic diseases.
Guillaume is currently implementing a £1.7 million project funded by the ZELS initiative, with Dirk Pfeiffer as principal investigator. This project aims to explore the epidemiology of avian influenza viruses and behavioural adaptations of live poultry traders and farmers in Bangladesh.
His other current research activities include assessing the role of live animal trade in the emergence and re-emergence of animal and zoonotic diseases, estimating the level of transmission of peste des petits ruminants virus in Ethiopia, and developing joint economic-epidemiological models of disease transmission within livestock populations.