WHO announce a 91% drop in trachoma risk since 2002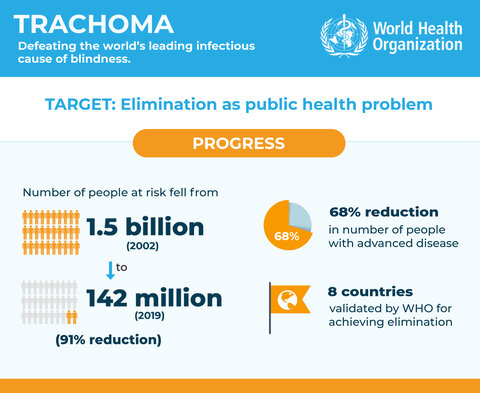 New figures, released by the World Health Organization during the annual meeting of WHO Alliance for the Global Elimination of Trachoma by 2020 (GET2020) show that the population at risk of trachoma has been reduced by 91 per cent since 2002.
17 years ago, 1.5 billion people were estimated to be at risk of trachoma, the world's leading infectious cause of blindness. New figures show 142 million people are at risk today.
New data presented at GET2020 also showed that the number of people requiring surgery for trachomatous trichiasis – the late, blinding stage of trachoma – dropped from 7.6 million in 2002 to 2.5 million in 2019, a reduction of 68%.
Since 2011, eight countries have been validated by WHO as having eliminated trachoma as a public health problem. At least one country in every trachoma-endemic WHO Region has now achieved this milestone, demonstrating the effectiveness of the SAFE strategy in different settings.
"This is great progress, but we cannot afford to become complacent," said Dr Anthony Solomon, Medical Officer in charge of WHO's global trachoma elimination programme and a Honorary Senior Lecturer at London School of Hygiene & Tropical Medicine. "We should be able to relegate trachoma to the history books in the next few years, but we will only do so by redoubling our efforts now. The last few countries are likely to be the hardest."
The significant reduction in the global prevalence of trachoma has resulted from increased political will in endemic countries, expansion of control measures and generation of high-quality data. The global programme has been supported by the world's largest infectious disease mapping effort – the Global Trachoma Mapping Project (2012–2016) – and, since 2016, by Tropical Data, which has assisted health ministries to complete more than 1500 internationally-standardized, quality-assured and quality-controlled prevalence surveys.
Tropical Data is a consortium of scientific, technological and implementing partners with LSHTM providing scientific oversight. Responding to the announcement, Dr Emma Harding-Esch, Chief Scientist for Tropical Data from LSHTM, said: "This announcement shows that great progress has been made in work to eliminate trachoma. However, this is not the time to be complacent as 44 countries are still known to require interventions for trachoma."
"Tropical Data is an end-to-end epidemiological support service which assists health ministries across the world conduct standardised, high-quality epidemiologically robust trachoma prevalence surveys.
"It is the only service of its kind providing prevalence data which are critically important for targeting and prioritising public health interventions for trachoma, helping validate countries as trachoma-free and identifying where there is still work to be done.
"Tropical Data means that health ministries and their partners can have confidence in the data generated, which are instrumental in aiding programmatic decision-making and for efficiently allocating scarce resources."
As more countries progress towards trachoma elimination in the next few years, the need for surveys and high-quality data analysis will become even more important to identify remaining gaps.
Further Resources