Where are the worms?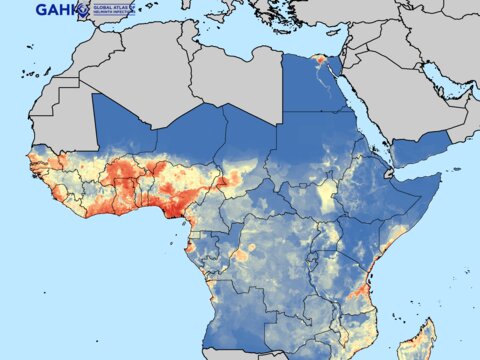 The $18 billion worth of drug donations and operational money committed by drug companies and international agencies as part of the global effort to control or eliminate NTDs was a strong statement of intent from the 2012 London Declaration against NTDs. As with any investment of this magnitude, the need to know how and where to effectively target and direct these resources is vitally important.
With the advent of improved disease diagnosis techniques and wide scale adoption of mobile digital technology to measure and record these diagnoses, it has never been easier to collect and disseminate the necessary data to inform this targeting.
Data on its own isn't enough. For it to be of use to policy makers and NTD programme managers it needs to be in a format that is accessible, easy to understand and applicable to the environments where they are working. In economic terms, there needs to be 'added value' to take data from being just a number to becoming an insight.
One such way of adding value to NTD data is by aligning it with geographical data to build NTD distribution maps that can be tailored to the particular needs of the stakeholder. Accurate data driven maps of this sort can be used to:
define numbers at risk of infection and determine areas requiring mass treatment;
forecast drug needs and costs; and
assess the roll-out and progress of elimination programmes.
An example of two such data driven tools are the Global Atlas of Helminth Infections and the NTDmap.org. These free online tools compile historical and contemporary survey data along with geographical co-ordinates to build intuitive maps which show the global distribution of NTD infections. The focus of both of these tools is to provide users with the information they need to make evidence-based decisions to improve the targeting and design of NTD control and elimination programmes.
The Global Atlas of Helminth Infections
First launched in 2012, GAHI provides NTD stakeholders with maps and data describing helminth (worm) infection distribution in 124 countries. All available information is collated into a single database on the prevalence soil-transmitted helminths (STH), schistosomiasis, and lympathic filariasis (LF).
Users are able to access over 950 ready-made maps, or create and download their own bespoke maps using a dynamic web app. Users can also query and download the 23,000+ data records drawn from 10,000 NTD surveys that are used to create the maps.
The GAHI is compiled and maintained by the London Applied and Spatial Epidemiology Research Group (LASER) at the London School of Hygiene & Tropical Medicine.
Dr Rachel Pullan who heads up LASER said, "Accuracy and relevance are core to our approach. GAHI aims to bring together all available data and present it in a way that is both easy to access and really useful for NTD stakeholders."
The data used by GAHI is sourced from exhaustive, structured searches of historical and contemporary formal and grey literature for rigorous and reliable NTD surveys. To ensure that only reliable surveys are included in GAHI, pre-determined inclusion criteria are applied to information identified through searches. Surveys are identified using a combination of approaches, including:
Searches of electronic bibliographic databases
Manual searches of local archives and libraries
Direct contact with researchers and institutions
GAHI only uses data for which is it has release permissions or that which is already published elsewhere. The geographical location – the longitude and latitude – of surveyed schools and communities is then determined to allow the mapping of data.
NTDmap.org
Another mapping tool which has benefited from the data collected by GAHI is the multi-agency NTDmap.org.
NTDmap.org helps users to visualize the geographical distribution and treatment status of seven NTDs - schistosomiasis, soil-transmitted helminths, lymphatic filariasis, trachoma, onchocerciasis, loiasis and yaws - as well as data on demography, access to improved sanitation and improved water sources.
Reflecting the collaborative approach engendered by the London Declaration NTDmap.org is based on robust data linked from multiple partners: the GAHI, Global Atlas of Trachoma, International Consortium for Trachoma Control, the Expanded Special Programme for Elimination of NTDs (ESPEN), Imperial College London and the Barcelona Institute for Public Health.
Speaking on the benefits of this collaborative approach Dr Pullan said, " By bringing together all the data from these 7 NTDs, NTDmap.org allows programme managers to plan more integrated control interventions."