KalaCORE - Hope in the battle against 'deadliest disease you've never heard of'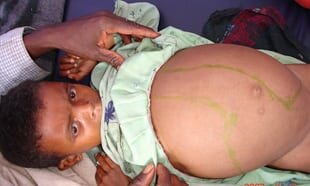 When eight-year-old Sita – an orphan from the mallah (boatmen) community which is one of the most marginalised sections of Indian society – developed a fever, her condition gradually worsened despite her family's efforts to treat her with a variety of local remedies.
Sita was lucky. While she was ill her aunt happened to see an educational film in the village about visceral leishmaniasis (VL). Transmitted through the bites of infected female sandflies, this parasitic disease (also known as kala-azar or black fever) attacks the internal organs of carriers (hence visceral) and is almost always fatal if left untreated. Symptoms include severe fever, weight loss and fatigue, as well as swelling of the liver and spleen. Eventually, the immune system runs so low, patients fall victim to severe anaemia and more routine infections such as pneumonia. It's like being poisoned, they say.
The aunt recognised VL in Sita's prolonged fever. She alerted an outreach team, who referred the girl to her nearest public health centre, where after a two-hour infusion of intravenous medication, she made a full recovery. The diagnosis and treatment were provided free of charge by the government.
Ten years ago, this story may have ended differently. Less advanced medical services meant that VL was routinely mistaken for other infections such as malaria. For those correctly diagnosed, treatment involved a month-long course of painful injections. Default rates were high. Marginalised patients like Sita did not have the income or savings for such a lengthy treatment.
But positive outcomes are now commonplace across South Asia. India is expected to reach a point by 2018 where the disease will no longer be considered a public health problem. Nepal and Bangladesh are at similar stages in tackling the disease.
Much of the recent legwork has come from an international consortium called Tackling Visceral Leishmaniasis in South Asia and East Africa (KalaCORE). The programme is backed by £21.5m of funding from the UK's Department for International Development (DfID).
KalaCORE was established by the Drugs for Neglected Diseases initiative, the London School of Hygiene and Tropical Medicine, Médecins Sans Frontières (MSF) and global consultants Mott MacDonald.
In partnership with the World Health Organisation, KalaCORE supports health workers in areas reporting cases, and targets interventions where there are local hotspots of the disease.
Lucy Palmer, a health specialist at Mott MacDonald, the management agent of KalaCORE, says: "VL is probably the deadliest disease you've never heard of – second only to malaria in terms of parasitic killers. Of course, no disease is fair. But VL is especially unfair, as the sandfly thrives in areas of high poverty. Due to a lack of awareness of the disease, patients drag their families into even deeper poverty by paying for ineffective treatments. The good news is that if those patients are now diagnosed and treated in time, they can make a full recovery and usually within a matter of days."
A different strain
Dr Cherinet Adera, the deputy country manager for KalaCORE in Ethiopia, witnessed the terrible choices faced by the poorest patients. When visiting a neighbourhood in the Tigray region, he was told about a 13-year-old boy who had stopped his VL treatment two years ago. The infection had relapsed, but the boy had discontinued his treatment again, after just seven of the 17 requisite doses.
"When I visited his home, I discovered the reason," said Dr Adera. "His mother was critically ill with cervical cancer. His grandmother couldn't afford the cost of treatment for both her daughter and her grandson, so she took her grandson out of the hospital before he finished his treatment for VL. The grandmother sold her cows for the treatment of her daughter and spent all her savings, and had no money left to pay for the cost of the treatment of her grandson. Hopeless, she had decided to wait for the death of her daughter and grandson at home."
The mother died a day after the doctor's visit. KalaCORE then provided financial support for the family and communicated with health professionals in the nearest hospital, as well as MSF. The grandson received full treatment and was later discharged as cured.
East Africa faces additional problems of population displacement, in particular caused by the civil war in South Sudan. KalaCORE's mobile teams investigated seven suspected outbreaks in South Sudan in 2016. On one occasion in the war-torn Jonglei state, the team diagnosed 22 cases, and provided on-site training, test kits and drugs. "These are areas with scarcely any infrastructure or recognisable health system, and with severe security constraints," says Palmer. "So the mobile teams are demonstrating admirable commitment in reaching, responding to and containing these disease outbreaks in remote communities.
"As with other horrible infections such as river blindness, guinea worm and sleeping sickness, VL has been neglected for too long. But now we know where it is. We know how to diagnose it. We know how to cure it. The truth is that VL offers great value for money in areas of the world that face the greatest poverty. It's not a chronic disorder. Patients – and whole villages – can be cured completely and retain a life-long immunity."
Dr Sakib Burza, Medical Adviser for MSF in Asia, was also optimistic, although he stressed that researchers still have much to learn around transmission of the disease, as well as its relationship with HIV. "But on the question of whether we are on the right track for VL, the answer is undoubtedly yes. I've never before seen such a huge political commitment from across the spectrum, as well as from the international stakeholders and NGOs.
"To put it simply, if we don't manage to control this disease in the next few years with all the political, financial and stakeholder support we now have, then it's going to be hard to do it in the future. This is our time to act."
Article by Ian Valentine originally appeared on Guardian's Global Development Porseeional Network