Imperial's Alan Fenwick awarded Kyelem Prize for services to NTD elimination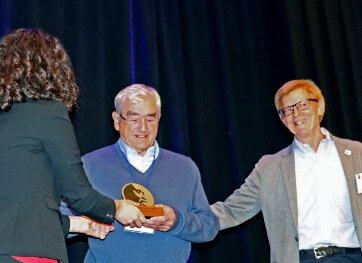 Professor Alan Fenwick has been awarded the fourth annual Kyelem Prize at the 2018 annual meeting of the Coalition for Operational Research on Neglected Tropical Diseases (COR-NTD). The prize, set up in honor of the late Dr. Dominque Kyelem, recognizes extraordinary contributions to the field of neglected tropical diseases (NTDs).
Presenting the award, the Neglected Tropical Diseases Support Center's Director, Dr Eric Ottesen said, "Dominique's attributes are just those embodied in the individuals chosen for the annual Kyelem prize – competence, effectiveness, collegiality, sincerity, determination and unquenchable optimism,"
Professor Fenwick's focus on schistosomiasis epidemiology and control spans a 50 year career which has seen him advance global efforts to implement large-scale schistosomiasis control efforts. Working with national governments, WHO and donor agencies, academia and the pharmaceutical industry, Professor Fenwick has channelled his research and advocacy efforts to strengthen and support deworming programmes globally.
In Egypt, Professor Fenwick was part of the initial safety and efficacy trials of the antiparasitic drug praziquantel— a major breakthrough in schistosomiasis treatment. In 2002, he founded the Schistosomiasis Control Initiative that has supported the scaling up of mass drug administration efforts across 16 endemic countries in Africa, resulting in a significant reduction in morbidity of schistosomiasis. Since 2004, he has been Professor of Tropical Parasitology at Imperial College London, bringing his extensive field and research expertise to the classroom setting.
Speaking about the impact that Professor Fenwick has had on NTD control, SCI's Executive Director, Dr Wendy Harrison said, "The fact that global leaders have committed to controlling and eliminating schistosomiaisis is in many ways due to the research expertise and evidence-based advocacy that Alan has brought to the NTDs field. The Kyelem prize is viewed as the Oscars of the NTD community so we're obviously very proud that Alan's work has been recognised in this way. I hope that myself and the rest of the SCI team continue to build on Alan's legacy."
Professor Fenwick received the award at the 2018 COR-NTD meeting, which was attended by more than 400 participants who gathered to drive efforts closer to the control and elimination of NTDs by 2020 by sharing insights, identifying programmatic gaps, and discussing strategies to address current NTD challenges effectively.
Selected Alan Fenwich research outputs