Developing a new vaccine to protect against Trachoma: TRACVAC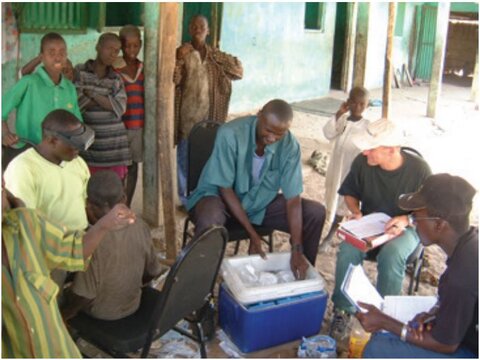 TRACVAC is an international collaboration between LCNTDR members from LSHTM and Imperial College London together with partners from IDMIT-CEA Paris and SSI Copenhagen to develop a vaccine to protect against trachoma, the leading infectious cause of blindness worldwide. LSHTM's Martin Holland and Harry Pickering, explain the approach being taken to develop this vital vaccine.
Trachoma is caused by conjunctional infection by the C. trachomatis bacteria. TRACVAC are working on a new vaccine that uses proteins taken from C. trachomatis to enable a person to produce antibodies that will neutralise an infection before it takes hold. The proteins are selected by taking samples from individuals in The Gambia and Tanzania who do develop immunity to the infection and precisely identifying the areas of the proteins that are recognised.
The vaccine strategy employs immuno-repeat technology delivered with an adjuvant that increases both the quality and quantity of protective neutralizing responses. An immunisation regimen for the eye will be developed and optimised, leading to clinical evaluation.
Why is this research necessary?
In line with a global target to eliminate trachoma infections by 2020 WHO-endorsed control efforts have increased dramatically in the last decade. In 2016, over 85 million doses of Pfizer-donated Zithromax were distributed globally through community-based mass drug administration (MDA). Despite this, only five countries have officially declared elimination, while 49 countries remain endemic for trachoma, leading to an estimated 2.2 million people with some form of trachoma visual impairment or blindness.
There are significant barriers to current trachoma control programmes. Trachoma is common in politically unstable regions, owing to its association with low income, poor hygiene and sanitation, which makes accessing affected communities difficult. MDA also increases the potential for introduction of antibiotic resistance and it may also interrupt the natural acquisition of clinical immunity to ocular C. trachomatis infection, without completely eliminating the infection from targeted communities.
A vaccine for trachoma has the potential to be an extremely cost effective method of completely controlling trachoma, whilst at the same time having the additional benefit of reducing urogenital C. trachomatis infection.
What is the research impact?
The primary objective of TRACVAC is to evaluate a new trachoma vaccine and regimen in a phase I safety and immunogenicity trial. The studies undertaken in development of this vaccine will also improve our understanding of immune responses induced by C. trachomatis infection, particularly those associated with protection from infection and disease sequelae.
The long-term goal of TRACVAC is delivery of a protective and cost-effective vaccine, which can supersede the programmatically challenging distribution and repetitive administration of antibiotics to entire communities.
A vaccine and immunisation regimen, aims to reduce the need for repeated rounds of MDA, expediting and improving the likelihood of elimination of trachoma as a public health problem.