Care home residents with scabies going undiagnosed due to different symptoms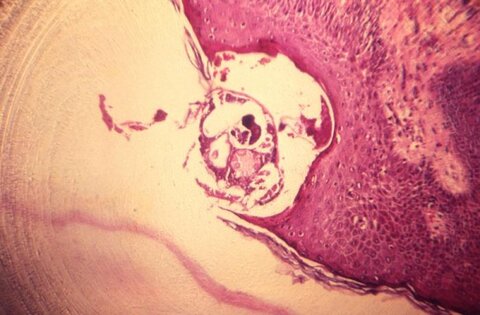 Elderly people in residential and nursing care are missing out on being diagnosed with scabies because their symptoms differ from what doctors and nurses expect in younger people, according to new research published in The Lancet Infectious Diseases.
Without treatment these vulnerable patients are suffering with the infectious skin condition for long periods of time and passing it on to other residents and staff.
The research, co-authored by the London School of Hygiene & Tropical Medicine (LSHTM), Brighton and Sussex Medical School (BSMS) and Public Health England, studied scabies outbreaks in 10 elderly care homes in the South East of England. The team found that among older people, scabies symptoms were often found on parts of the body normally covered by clothes, rather than on the hands, where healthcare professionals tend to look for them. Additionally, residents with dementia were often unable to report symptoms of itching, meaning their condition was missed.
Scabies, categorised as a Neglected Tropical Disease by the World Health Organization, remains a public health challenge in the UK. It is mainly transmitted through skin to skin contact, which may include care activities such as washing or dressing. Outbreaks regularly occur in residential and nursing care homes for the elderly, and can be difficult to manage, distressing and highly stigmatising.
Dr Steve Walker, senior author at LSHTM, said: "Scabies is estimated to affect more than 200 million people worldwide at any one time. It's a significant public health problem in many low and middle income countries, but also here in the UK, where it's thought more than 100,000 people are affected each year.
"Outbreaks in residential care facilities for the elderly in the UK represent a challenge because many of those affected may not be able to communicate their discomfort and the appearances may differ significantly from those in younger people. We hope our research raises awareness of the unusual features of scabies in the elderly leading to earlier diagnosis. Further studies are needed to improve the treatment of scabies in this vulnerable group."
During the 10 outbreaks studied, which occurred over a period of 15 months, dermatology-trained physicians examined 230 residents with a median age of 86.9 years, 157 of whom had dementia. Over a quarter of residents examined (26.5%) were diagnosed with scabies, and more than half of those diagnosed (57.4%) only had signs on areas of the body that would normally be covered. The odds of receiving a scabies diagnosis were increased 2.4 times for residents with dementia.
Professor Jackie Cassell, first author at BSMS, said: "Although scabies has long been known to be a problem in residential care for the elderly, our study has shown why it has been so difficult to recognise and control in this setting. Symptoms in this vulnerable population are typically very different from what doctors have been taught to expect, which makes it harder for care home staff and clinicians to diagnosis scabies. What's more, those with dementia are particularly at risk of being left undiagnosed, given their difficulties with communicating discomfort and itching.
"We believe our findings will make it easier for doctors and care home staff to recognise scabies outbreaks quicker, by showing how scabies presents differently in this elderly and vulnerable population. It's important that they undertake thorough examinations of patients, particularly in those with dementia. By putting these practices into place through guidelines and educational material, we hope to see a reduction in the number of outbreaks in such residential settings, and quicker diagnosis and treatment."
Research publications
Cassell JA, Middleton J, Nalabanda A, et al. Scabies outbreaks in ten care homes for elderly people: a prospective study of clinical features, epidemiology and treatment outcomes. The Lancet Infectious Diseases. (18)30372-4
Adapted from an original article available at www.lshtm.ac.uk