5 Crucial Facts You Need to Know This World Health Day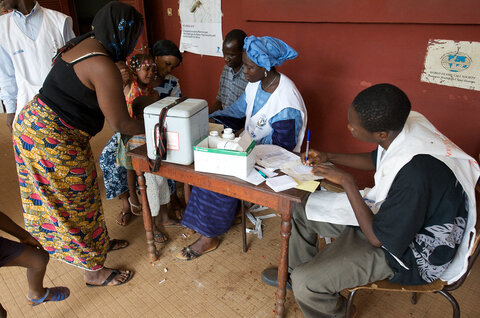 What are the key global health challenges facing the world today? Prof Sir Roy Anderson and other leading figures from the global health community shared their priorities with Global Citizen's Jackie Marchildon.
April 7 marks World Health Day, a day that aims to highlight global health priorities for the World Health Organization (WHO).
The WHO will be focusing on universal health coverage (UHC) in 2019, which is all about providing access to health care without inflicting hardship. The idea behind UHC is gaining momentum and could arguably lead to amazing progress in global health.
International efforts have led to great progress in the context of global health, but if the world is going to succeed in achieving Sustainable Development Goal 3 on good health, some key facts need to be addressed.
1. Neglected Tropical Diseases Affect 1.5 Billion People
Neglected tropical diseases (NTDs) are illnesses with severe side effects, including blindness and disfigurement, that affect the world's poorest populations. But many of them are easily treatable — and even preventable.
"Quite extraordinary progress has been made in controlling NTDs," Prof Sir Roy Anderson, professor of Infectious Disease Epidemiology at Imperial College London, and Director of the London Centre for Neglected Tropical Disease Research, told Global Citizen. "And I think in some ways, [over] the next decade … the challenge again will be trying to sustain this momentum, when prevalences are starting to get low in some countries."
But Anderson warns that despite progress, an intensified effort is needed.
"Eradicating an infectious disease is a staggeringly difficult task — we've only done it once for humans, in terms of smallpox," he said. "The cost of getting [to] the further mile rises dramatically towards the end. It's not that less effort is required, it's that more effort is required to capture these small pockets."
These small pockets, "beyond the end of the road," as Anderson says, are the most difficult to reach — families with children working on farms to bring in food, who cannot attend school, where they might receive pills and vaccines, for example.
As with all health initiatives, access to quality health care requires a comprehensive approach.
"[It's] always got to walk hand in hand with good access to primary health care, international help in giving pills to treat these diseases and then improving the fundamentals, which is clean water … and access to proper sanitation," he said.
2. Multiple Countries Are Facing Measles Outbreaks
Measles is a highly infectious disease that seems to be making a comeback around the world, as hundreds of thousands of cases surface from Madagascar to the Philippines to Canada to the US, and across Europe.
"Complacency about the disease and the spread of falsehoods about the vaccine in Europe, a collapsing health system in Venezuela, and pockets of fragility and low immunization coverage in Africa are combining to bring about a global resurgence of measles after years of progress," Dr. Seth Berkley, CEO of Gavi, the Vaccine Alliance, said in a press release.
A report by the CDC also cited the anti-vax movement as a key reason behind the global spike.
This resurgence of measles in countries where it has otherwise been eliminated is an easy example of the importance of routine vaccinations — measles is preventable with the MMR vaccine.
3. More Than Half of Children's Deaths Under 5 Are Preventable
In 2017, 5.4 million children under the age of 5 died — and half of these deaths resulted from conditions that could have been prevented or treated, according to the WHO.
Increasing access to vaccines for diseases such as measles, polio, rotavirus, and pneumonia due to Haemophilus influenzae type B (Hib) and Streptococcus pneumonia could dramatically reduce the number of child deaths, as the leading causes of death for children under 5 are pneumonia and diarrhea.
The Centers for Disease Control and Prevention (CDC) reports that improved water sources could decrease the number of diarrheal diseases by 21%, better sanitation could reduce diarrhea mortality rates by 37.5% and the being able to wash hands at critical moments could decrease diarrhea cases by as much as 35%.
4. Polio Once Affected 350,000 Children Every Year
"An investment in polio eradication is an investment in global health," Carol Pandak, director of Rotary International's PolioPlus program, told Global Citizen by email. "The eradication of polio would mean at least US$40-50 billion in health care savings, mainly in low-income countries."
Polio is a highly infectious disease that once threatened the global community, but since the Global Polio Eradication Initiative was launched in 1988, global health efforts have led to just 33 cases being report in 2018.
But if work halted on the efforts to eradicate polio, the world would see a global resurgence.
"Within 10 years we could see as many as 200,000 new cases each year, and we can't let that happen," Pandak said.
5. Over 5 Million Women and Children Die from Preventable Causes Every Year
About 830 women die from pregnancy- or childbirth-related complications every day, with almost all of them (99%) occurring in developing countries, according to the WHO.
This makes efforts to improve maternal health all the more pressing.
"[What's] really exciting to see is that there's such momentum from countries for this topic and a real commitment to make a difference," Monique Vledder, practice manager for the Global Financing Facility (GFF), told Global Citizen.
The GFF works with governments and organizations to help recipient countries prioritize their health efforts by addressing areas like nutrition, education, social protection, and female empowerment.
"Women and children are really at the core … of a country's economy," Vledder said, adding that in order to address maternal health, we must take into account not only primary health services, but also access to education.
If a country can improve a girl's access to education, that girl will postpone marriage and wait to have children, and will be more likely to find a decent job.
"It's a full package in ensuring that these girls become [a] productive part of the society," she said.
If one thing is clear this World Health Day, it's that to truly achieve SDG 3: Good health for all, the world must address many other SDGs, including access to quality education, as well as clean water and sanitation.
Adapted from an original article on Global Citizen
Global Citizen is global movement of activists working to end extreme poverty by 2030.