ASTMH 2017 Poster - Evolution of full age-infection profiles for schistosomiasis and soil-transmitted helminthiases following mass drug administration in Uganda: results from a three-year study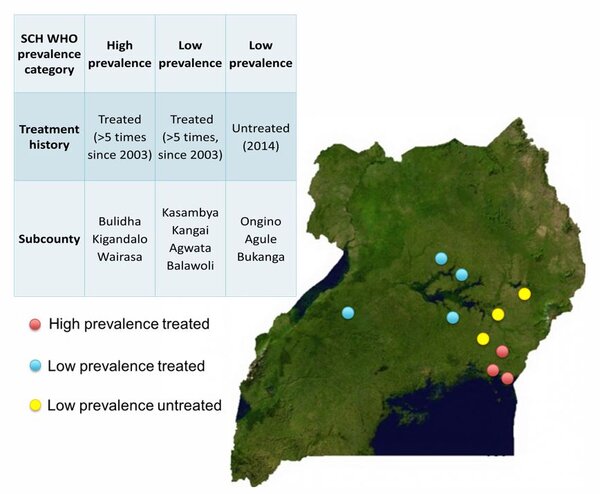 This article is adapted from a poster presented at ASTMH 2017 by Arminder K. Deol, Michael D. French, Edridah Tukahebwa, Moses Adriko, Benjamin Tinkitina, Yolisa Nalule, Jane Whitton, Judy Fernandez, Martin Walker, Joanne P. Webster, Fiona Fleming, Maria-Gloria Basáñez
Introduction
Uganda was the first sub-Saharan African countries to implement a national-scale programmes, to control schistosomiasis-associated morbidity through mass drug administration
School-aged children (SAC) harbour the highest prevalence and intensity of infections which then typically decrease with age.
The aims of the study were to address the following questions:
What do the full age-infection profiles show after several years of routine treatment?
How do these differ between three consecutive years of treatment?
How do these differ with endemicity and treatment history?
Methods
Data were collected from 10 different sites of varying endemicities and treatment exposure from all age groups over 3 years (2014-2016).
Eggs per gram (epg) for S. mansoni and Soil-transmitted helminth (STH) infection were obtained from four Kato-Katz slides per individual (2 days x 2 slides).
10 sites (sub-counties) were chosen, with 750 individuals per site.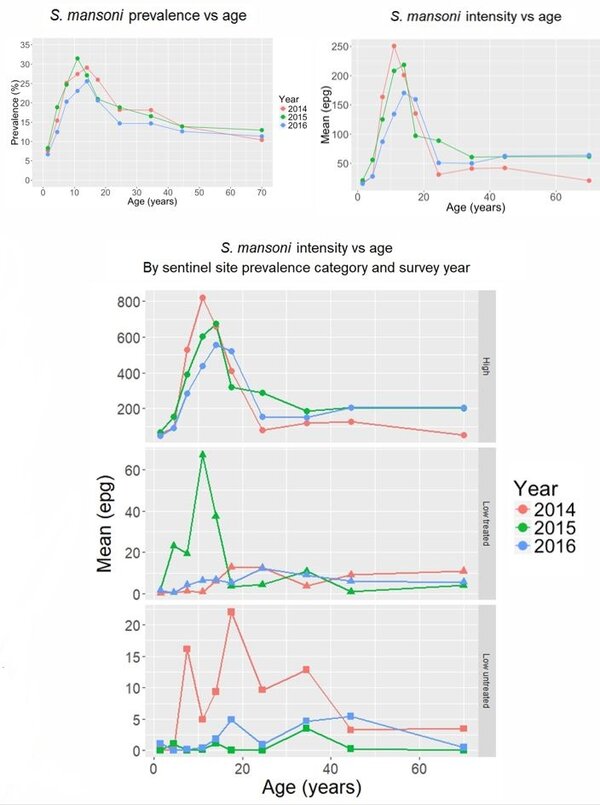 Results
Overall prevalence and mean intensity did not show much reduction.
High prevalence areas showed peak decrease but still very high (2016, > 75% in 10-15 year olds – dip seen in end of SAC range)
Low prevalence peaks can be misleading – when analysing at individual level, results showed that a smaller number of individuals were heavily infected as expected, but not reflected in the standard age-intensity profiles, analysed at age-group level.
Areas classed as 'low' prevalence were found to have 'high' prevalence in SAC in our survey.
STHs were very low in the study areas.
Conclusions
Where transmission is high, annual MDA was shown to be insufficient to making a significant impact on prevalence levels in SAC
In high transmission areas, mean intensity of infection in SAC remained as "heavy" (400 epg or above)
Where transmission is low, those heavily infected could have a disproportionate impact on the mean intensity of infection.
WHO strategies need to be supplemented
Aiming for elimination will need strengthened MDA – high sustained coverage, increased frequency of treatment - and additional interventions
Acknowledgements and partners
First and foremost we would like to thank staff at the Vector Control Division of the MoH Uganda that collected the data and all individuals who agreed to take part in this study. This study was funded by an operational research grant from the Children's Investment Fund Foundation (CIFF)